About König
Founded in the Lecco region (Italy) in 1966, König is the leading brand known for providing safer, easier-to-use and better designed snow chains to people driving in winter time.
König approach is segment-related and consumer-focused. aiming to better understand the current and future consumers needs and to provide solutions to whatever vehicle needs traction on snowy and icy roads.
Through the years, the brand gained a respectable reputation of consumer-innovation leader and the company has gradually evoluted in a structured and future-oriented company in all business aspects, driven by people determined in exceeding internal and external expectations.
König products are mainly available under the König brand.
At the same time the company was selected through the years by a large stalls of Car Manufacturers as direct supplier for the design, production and supply of snow chains.
In fact König proprietary products and technology can be found on the market also under the most ambitious and innovative car brands.
König products are sold wherever it may snow (and not only!) and they're available through selected and trained channels, being them physical or virtual, with the scope to provide the best customer experience at retail level.
König around the world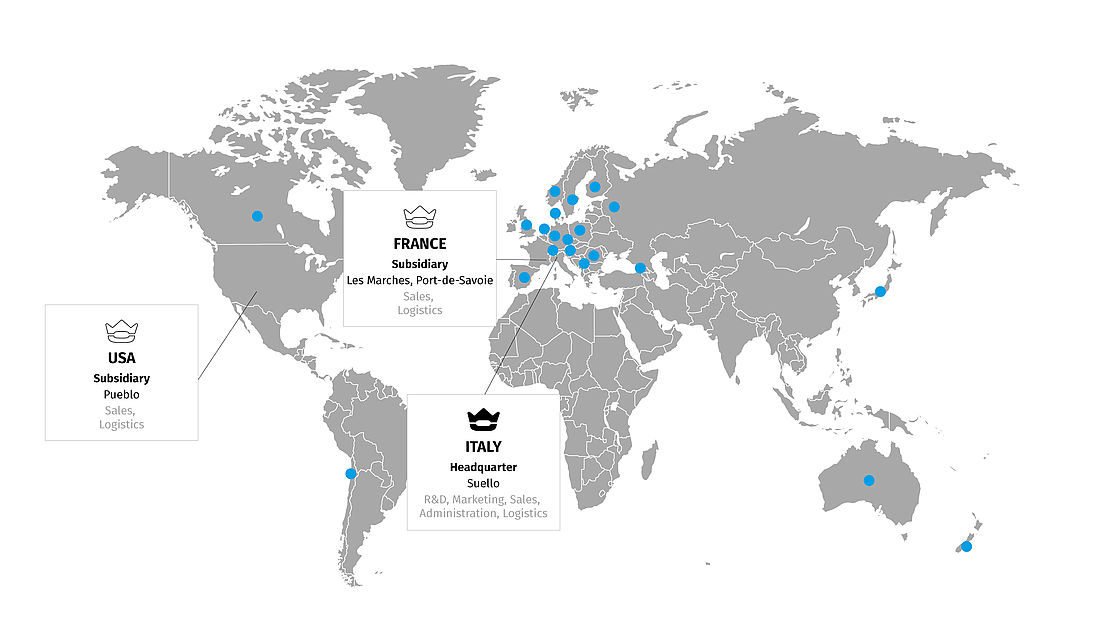 Direct company locations in the world
Italy - Suello (LC): Headquarter with R&D / Marketing / Open market and OE Sales / Administration / Logistics
France - Les Marches Port de Savoie: Sales / Logistics
Germany - Unna: Sales / Logistics
Czech republic : Sales / Logistics
USA - Pueblo / CO: Sales / Logistics
Distributors
König is present in many different countries via local national importers and distributors. Through the years König has create a stable distribution network via the most reliable b2b partners. In the above map, the sky-blue dots indicate the presence of importers and distributors in the different markets.
König in figures
Years in business: 55
Pairs of chain sold since foundation: > 30 Mio pairs
OE customers: 15
Continents presence: 5
Country presence: > 30 countries worldwide