Electrification is certainly one of the main trends that is sweeping, if not disrupting, the automotive sector. More and more manufacturers have found themselves complementing their ICE (internal combustion engine) vehicle line-up with a line-up of MHEV (Mild Hybrid Vehicle), HEV (Hybrid Vehicle), PHEV (Plug-in Hybrid Vehicle) or fully electrified BEV (Battery Electric Vehicle) vehicles.
The structural differences between electrified and ICE-powered vehicles are directly proportional to the degree of electrification of the vehicle. In fact, BEVs powered exclusively by electricity have a completely revised architecture compared to vehicles with a standard engine or lesser degrees of electrification (MHEV, HEV and PHEV). The latter are to all intents and purposes ICE vehicles with various adaptations but no major changes.
With the advent of BEVs, vehicle manufacturers took the opportunity to revisit the typical structural and design limitations that characterised the vehicles we drove until yesterday.
The differences between BEVs and ICEs are many and an article would not be enough to list them. In our case, we focus on those that concern snow chains and their application: torque output and vehicle mass.
In short, a BEV delivers more torque instantaneously and is characterised by greater mass. These characteristics influence the behaviour of certain products that are applied to such vehicles, including tyres but also snow chains.
For this reason, in cooperation with some of the most prestigious manufacturers of BEVs, we have developed a specific surface-mounted solution, the König K-Summit MAX. Unlike the K-Summit and K-Summit XL, the new K-Summit MAX is equipped with a reinforced tread that can better cope with the dynamic stresses generated by electrically powered vehicles.
The K-Summit Max is the ideal solution for BEVs requiring a chain with no internal elements, built to withstand the stresses generated by application on electrically powered vehicles.
Zero internal clearance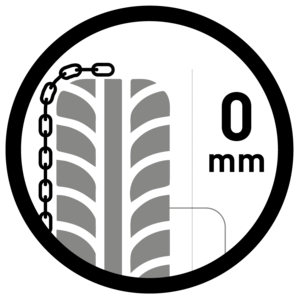 No new features! Like all chains in the K-Summit family, K-Summit Max has no internal elements and therefore does not interfere with the suspension unit components
External mounting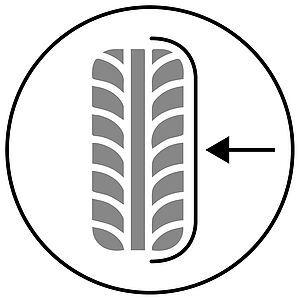 Here, too, nothing new! Like all chains of the K-Summit family, the K-Summit Max is also characterised by external fitting, attaches to the wheel nut of the vehicle, is tensioned with the integrated ratchet and positions itself automatically while driving on the tyre surface.
High-Performance Tread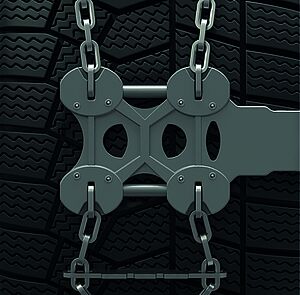 The increased requirements of electric vehicles in terms of power and torque are met by a specially reinforced tread. In fact, compared to the K-Summit and K-Summit XL, the K-Summit MAX has a thicker tread, consisting of 12-mm links and 14-mm welded rods. Connection to the rods is ensured by the 14 mm deep-section flaps, which position the chain more centred on wide-section tyres.
Attachment with U-Adapt device and K-Lock key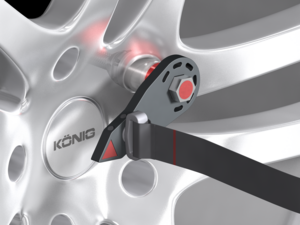 The chains of the K-Summit family are attached to the wheel nut or bolt, which can have different sizes and conformations. The U-Adapt device is a unique and universal adapter that can tighten on nuts from 17mm to 23mm.
Tightening is carried out using the K-Lock spanner, which signals with a click when the ideal tightening torque is reached.
Wheel-Shield Level 0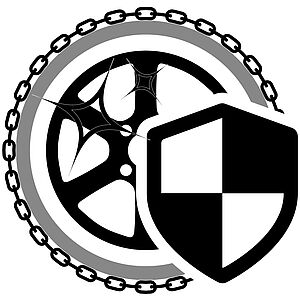 This trademark indicates the special design of the chain that avoids, by definition, any contact with the alloy rim.
Packaging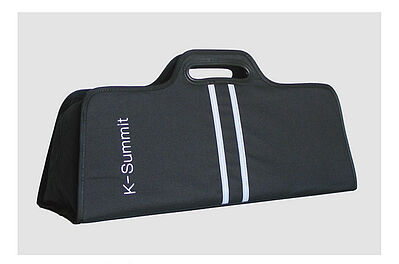 The K-Summit bag is a concentrate of elegance and practicality and allows the chains to be kept tidy when not in use.
Tyre compatibility
The K-Summit Max can be adjusted to cover tyres with different rolling circumferences. In fact, unlike conventional chains, the chains in the K-Summit family can cover considerably more sizes thanks to their adjustability.
Vehicle compatibility
The K-Summit Max is a chain compatible with passenger cars and crossovers, especially those with electric drive. At the same time, the product can also be used on sports cars equipped with wide-section tyres that are not compatible with K-Summit or XL due to dimensional issues.
To check whether the K-Summit Max is compatible with your vehicle and tyre size, please visit our configurator by clicking the following link www.konigchain.com/configurator
If you do not find your vehicle or tyre size in our configurator, please contact our service department.
Certifications / Approvals
The K-Summit Max is homologated according to EN 16662-1:2020 and O-Norm V5117, fully meeting all regulatory requirements in Europe.
If you would like more information about the K-Summit Max you can contact our technical support via email, phone and on our social channels. Furthermore, you can find König snow chains at many retailers, if you want to find the one nearest to you, please check www.konigchain.com/dealerlocator