The clocks take a step backwards. The night darkens earlier and earlier and the mornings get colder every day, making one regret at first sight the summer.
But does that mean you can't expect a holiday in the coming months? No!
Motorhome holidays can be undertaken all year round and can fully satisfy the desire for freedom even in the colder months, ensuring that you can move wherever you want and enjoy a touring holiday.
There are clearly some fundamental aspects to be taken into consideration because, as we know, winter makes certain aspects of the holiday more fascinating but, at the same time, in order to fully enjoy a winter holiday in a motorhome, it is necessary to be a bit prepared.
First thing: face the cold prepared.
Motorhomes know that if you need to travel in cold winter temperatures (typical of mountain locations), it is preferable to do so with an insulated motorhome. To be clear, the more thermally insulated the motorhome, the more pleasure it will be to use in the winter months. Of course, diesel heaters are used in any case, but with less frequency and lower intensity. Just as the correct insulation of a house lowers its running costs, the same applies to a motorhome.
Winter diesel
Make sure you fill up with winter diesel before stopping your motor home for extended periods in freezing temperatures. In fact, the diesel fuel in the tank and in the filter tends to solidify at low temperatures and this may preclude the engine from being properly fuelled. In some cases, the vehicle may not be able to start, or it may experience fuel problems after starting. In most cases, the vehicle will have to be transported to a warm garage and remain there for a few hours to allow the diesel fuel to return to a liquid state. Making diesel with winter additive will save you a number of problems, don't forget to do it.
Driving on snow-covered and/or icy roads
When temperatures drop during winter, high-altitude destinations are normally covered with ice and snow, and roads are no exception. In mountain locations, most of the main roads are cleared promptly, but on secondary roads and lay-bys, snow tends to remain for a long time.
In situations like these, snow chains become an essential part of the check list in preparation for your trip.
Here is some useful information on what snow chains are, when they should be used and which ones to choose.
Motorhomes are large and heavy vehicles, in most cases equipped with front or rear-wheel drive; four-wheel drive is an option that is not so common on vehicles that do not come from mountainous areas.
It is therefore essential to be prepared for icy or snowy road conditions. The heavier the motorhome, the greater the traction required to prevent the tyres from sliding, both under acceleration and braking. The risk is to get stuck in the snow or worse still not be able to stop your vehicle in the necessary spaces. Snow chains are a common tool used by motorhomers to improve traction when the road surface does not provide the grip needed to travel safely.
When must snow chains be used?
Snow chains should only be fitted on tyres when the road surface is covered with snow, ice (but also mud) and should be removed once road conditions improve and allow safe travel on tyres only.
Which snow chains to choose?
As mentioned above, motorhomes are very heavy vehicles compared to a car, so you will need snow chains that are robust, reliable... and why not, also easy to fit! Here are some guidelines for choosing your snow chains.
1. Consult the motor home's owner's manual
First of all, consult your vehicle's owner's manual to check if there are any prescriptions or instructions regarding the use of snow chains from the manufacturer of your vehicle.
Apart from VANs such as, for example, the VW T5 and T6 or the Mercedes Vito, a motorhome is the result of an adaptation of a basic vehicle by a outfitter who goes on to fit the living quarters and the relevant systems. For this reason, it could be that there are two Owner's Manuals for your motor home: a generic one from the motor home manufacturer (phase 1 manufacturer, such as Fiat for the Ducato) and one relating to the outfitter (phase 2 manufacturer).
In fact, it may happen that the outfitter modifies some of the technical characteristics of the motorhome and some of these may influence the chainability of the outfitted vehicle (should you require assistance or further information, please do not hesitate to contact our support team).
2. Check that the chains you intend to install meet the technical specifications of the vehicle.
When choosing snow chains, check that the snow chains are approved according to European standards.
For motorhomes with a total mass up to 3.5t, the chains must have Ö-NORM V5117 certification, which is the standard in most European countries.
If the motorhome has a gross vehicle weight of more than 3.5 tonnes, the chains have to be Ö-NORM V5119, which is the standard for heavy vehicles (for which a B licence is no longer sufficient).
For more information on snow chain regulations read the article at this link.
With König snow chains you won't go wrong, most of the products for motorhomes meet both the V5117 and V5119 standards, a proof of the quality and durability of the products.
3. Choose the model with the mounting system that best suits your preferences
König has been at motorhomers' side for more than 50 years with a product range that, without denying its origins, has evolved with pragmatic but also quite technological mounting systems.
If the motorhome has no chainability restrictions (the wheel housings have the necessary clearance for the installation of chains), motorhomers normally prefer 16mm chains.
König XD-16 - approved for both light motorhomes (gross vehicle weight less than or equal to 3.5t) and heavy motorhomes (gross vehicle weight over 3.5t)
Within the König product assortment, the König XD-16 chains are the most suitable due to their dense tread coverage.
The XD-16 chains are characterised by their flexible cable mounting system and require manual tensioning: after installing them and driving a few hundred metres, the vehicle has to be stopped to retension the chains that have become loose.
Thanks to the pre-tensioning springs and the Micro-Adjust device, the König XD-16 favour adaptability to tyres with different profiles and wear levels.
Last but not least, the König XD-16 chains are equipped with the Wheel-Shield level 2 alloy wheel protection system. In fact, if your vehicle is equipped with alloy wheels, you can install specific wheel protections on the side hooks included in the package.
König XG-12 Pro - approved for both light (gross vehicle weight less than or equal to 3.5t) and heavy (gross vehicle weight over 3.5t) motorhomes.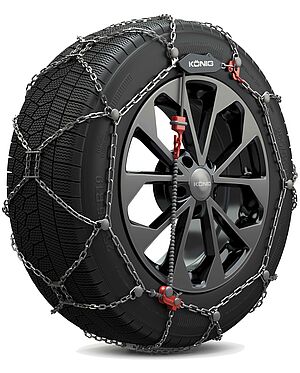 At the same time, we must consider that today's motorhomes are characterised by a much more attractive design than those of a few years ago. Larger wheels also contribute to a more modern motorhome with a more premium look. As you can imagine, the use of larger wheels inevitably reduces the clearance in the wheel houses and can therefore limit the use of snow chains.
For these situations, the König XG-12 Pro can be the ideal solution. In fact, thanks to a limited width of 12mm, these chains can be fitted in most places where 16mm chains would create interference with the wheel house.
In terms of fitting, the König XG-12 Pro is equipped with the same flexible cable as the König XD-16 but is equipped with the König ATC device that tension the chain while driving. Tensioning precision is guaranteed by the Micro-Adjust device that allows the chain to reach the ideal tensioning level while the vehicle is moving.
The XG-12 Pro is the ideal chain for motorhomes equipped with alloy rims, as it features Level 1 Wheel-Shield protection, ensuring that all elements that could potentially come into contact with the rim are made of anti-scratch material. In addition, in the package you can find the protection set for the side hooks, also present in the XD-16 mentioned a few lines above.
König K-Summit VAN - approved for lightweight VANs (gross vehicle weight less than or equal to 3.5t)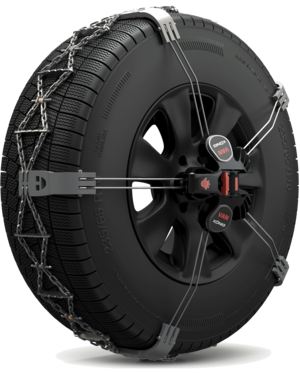 But there are some VANs that due to the construction characteristics of the wheel arch (where a strong influence is given by the suspension design combined with large-section tyres) do not accept chains with inner elements. In fact, the clearance between suspension and wheel profile is minimised and chains with inner elements can create interference with the suspension or worse with brake fittings or ABS sensors.
For these specific applications, König has developed the K-Summit VAN. This is an external-mounted chain (therefore, by definition, without elements that are positioned behind the wheel), which attaches to one of the wheel nuts and positions itself automatically while driving.
You can find all snow chain models designed for your Van / Camper / Motorhome by visiting our product page at this link.
You can check the compatibility of König snow chains with your motorhome or van by visiting the configurator at this link. Simply enter your vehicle model and tyre size to check which König snow chains are compatible with your vehicle.
For further information, our support team is at your disposal.